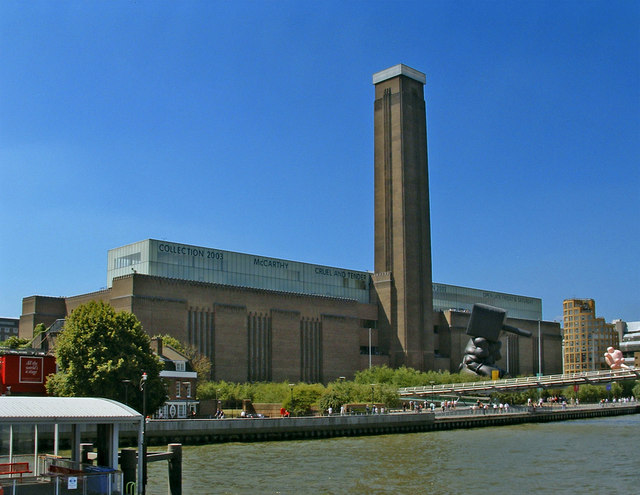 Why should You visit the Tate Modern London?

The Tate Modern London is one of the greatest modern art galleries in the world. It's free, it's huge and you won't get bored!
Easy to get to, year round shows and ever changing art on display to the public. Full accessibility and a great cafe with epic views.

What is the Tate Modern?

The Tate modern is a contemporary and modern art gallery, situated along the Southbank of the Thames River in London. Owned by the Tate group, its siblings are the Tate Britain, Tate Liverpool and Tate St Ives (Including the Barbara Hepworth museum). It was previously the bankside power station and is now the sprawling monumental beast that is the Tate Modern. Housing countless works of national and international Contemporary and modern art in the form of paintings, sculptures, sound and video pieces and more.
Here are 9 reasons to visit the Tate Modern.
1. Free Entry
It's completely free to the public, you can spend as much (or as little) as you like, viewing and exploring the halls of the Tate at your leisure. There are additional exhibitions that have an entrance fee, these are usually free to Tate members.

This is a yearly fee and allows members to experience a lot more of what the gallery has to offer. There are donation boxes at various entrances and exits but these are completely voluntary.
2. The Architecture
If you like a bit of Brutalist architecture then you won't be disappointed.

Although the external building is still the same as the original building, a lot of the internal landscape has a glorious plain gray appearance of what we have come to know as Brutalist architecture.

There is something truly calming about the look and atmosphere of the smooth endless concrete walls of the Tate, you can find yourself there (or lose yourself) depending on your intention. In addition to this, the new building is now open, named the Blavatnik building, named after the philanthropist Len Blavatnik. It is truly a masterpiece of modern architecture.

The external view is something to be experienced.
3. Find out what you like
If you're not sure about modern and contemporary art and lean towards disliking it then the Tate Modern will probably help you on your way to deciding not to bother with it in the future.

This sounds like a strange reason to visit the Tate but at least you will have got all that painful future modern art nonsense (you always deep down knew it was) out the way and won't have to deliberate on whether to go to yet another 'yawn' modern art show.

You can stay at home or go down the pub instead and read a popular news tabloid and avoid the risk of learning something or having your mind expanded ever so slightly by viewing another world for a few hours. Thank God for that!
4. Huge choice of art to see
There's a huge mixture of art to see and if you're just starting to get into art, it's a great place to get a feel for it, you might be into surrealism and never knew it or video art, who knows it might start you down a path of showing there yourself one day. With multi floored exhibitions and permanent art and dedicated rooms, there is something for everyone.
5. The balcony
The view from the balcony is worth the visit alone. Situated next to the cafe/restaurant, the balcony offers an incredible view of the surrounding city and the Thames, which boasts constant activity. Just make sure you're not too scared of heights as it's a long way down.
6. The Turbine hall
Yes, that's it really, the turbine hall is one of the crowning element's of the Tate Modern. It's huge and nearly always has something fascinating to see. Running the length of the Tate, you won't be disappointed upon entrance.
7. The immediate surroundings.
It's not just the Tate that will give you a meaningful experience but the whole area, filled with new and old architecture, Street performers, theaters, music, restaurants, a bit more brutalism, the Thames and a whole host of other things to check out, you won't be stretched for something to grab your imagination.
8. Ever changing work to visit
A constant rotation of available works, if you think you've seen everything the Tate has to offer, give it a few months then go again. They rotate a lot of work, so you'll always see something new (although I'm pretty certain Lee Krasner's Urban gothic is on permanent show).
9. Good access
Easy to get to by train, simply jump on the tube and head on over to Southwark tube station and follow the very helpful orange sign posts to your destination, full access is available at the Tate.
So there it is, 9 reasons to check out the Tate Modern. One of our very best art galleries this side of the Atlantic.